---
Our newest fiction, now available for your nearest and dearest, tests their readiness for the coming posthuman age.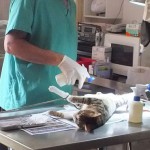 Give a friend a gift voucher to have their first cyborg implant. This highly focused, magnetic implant promises to raise them to six senses as they experience the tugging electromagnetics whirling around our cities.
Once upon a time, tattoos seemed far-out, the preserve of weirdos and bogey men. Now, they're everywhere, and have become, if anything, too common.
Join the fruity new wave of aesthetic transcendence. We're here to transform you!
The gift voucher entitles the recipient to visit our discrete clinic, or (on the quiet) enjoy a home visit.
They will have their upgrade and new self explained to them whilst being shown radical catalogue imagery, before being clinically prepared for the act with a series of swabs and pricks.
Only then will the doctor announce that one of the skin tests has deemed them unsuitable for the procedure.
Apologies are made and the contract is produced explaining that unfortunately no refund is due. They should speak to the person who bought the voucher if they wish to quibble.
Nevertheless, they will, have been taken to the bleeding edge of futurism, and understand a little more about how far they personally are prepared to go into the grave new world of the cyborg.
---
---